Has slab climbing become fasionable? Well, at least this particular route seems to be the talk of the town
Scott Mooneys
first ascent
two weeks ago of Moonwalker at Bistaberget near Nyköping, about an hour and a half from Stockholm got a couple of us buzzing. Not that it's a stunning line, don't get me wrong, it's not by any means bad but it was more the style that intrigued me, a bouldery and slabby face climb at Scandinavian 9- (8a) with miniscule holds, delicate feet and funky sequences, a style not that common on routes of that difficulty. Last weekend a couple of us went down to see what the whole shebang was all about and try the route. We played around on it for a bit and even though I technically was rather close I felt like I was miles away. Erik Lundqvist showed us who was master of his domain by redpointing it fairly easily while Martin and I looked and felt fat, week and uncoordinated.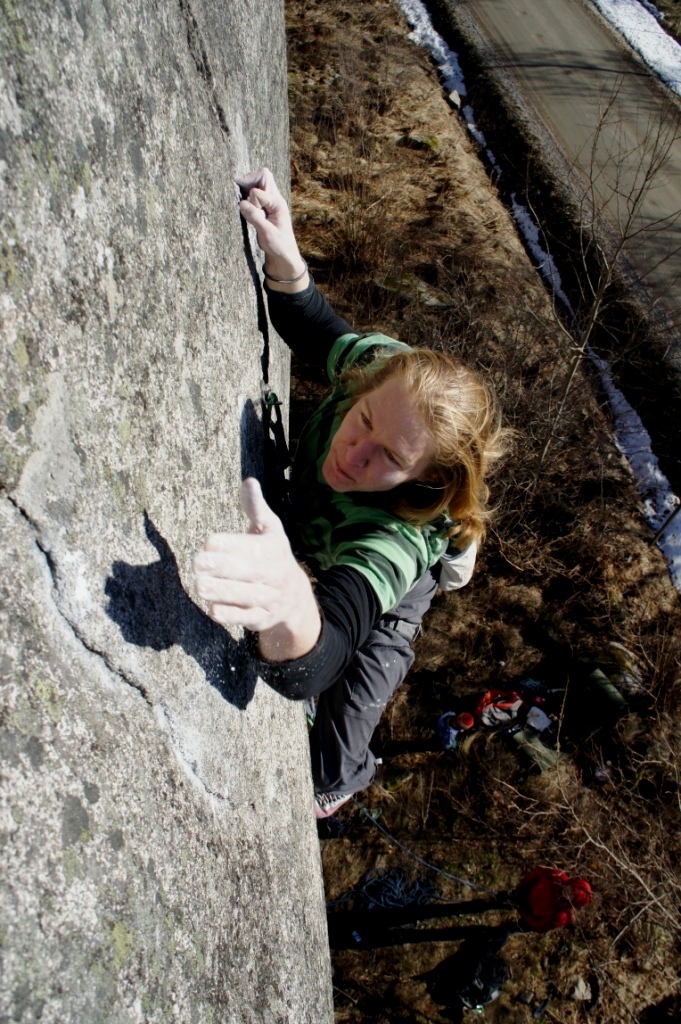 Martin "Goldie locks" Lejdebrant playing on Moonwalker
This Saturday young and talented Simon Andersson, who couldn't join us last weekend, was eager to tag along to get even with this sneaky little devil. Weather looked pretty grim when we left Stockholm in a drizzle but the forecast had predicted better conditions at Bista. It proved to be half right, just slightly better; one of the few routes that were reasonably dry was our plat du jour which was good enough for us. Most everything else was dripping so we warmed up with a shot of coffee and a cigarette before we set to work. Again the crux felt ridiculously hard but after a few goes and some fine tuning of the moves the holds suddenly felt resonable and not too far a part and the send was a fact. Simon followed my example and fired it as well, his first route of that grade IAD. F**king Brilliant! Feeling rather satisfied with our feat, we cooled down with some more coffee and some smokes before heading off to nearby Simonsberget where we scrambled around for a while before calling it quits.